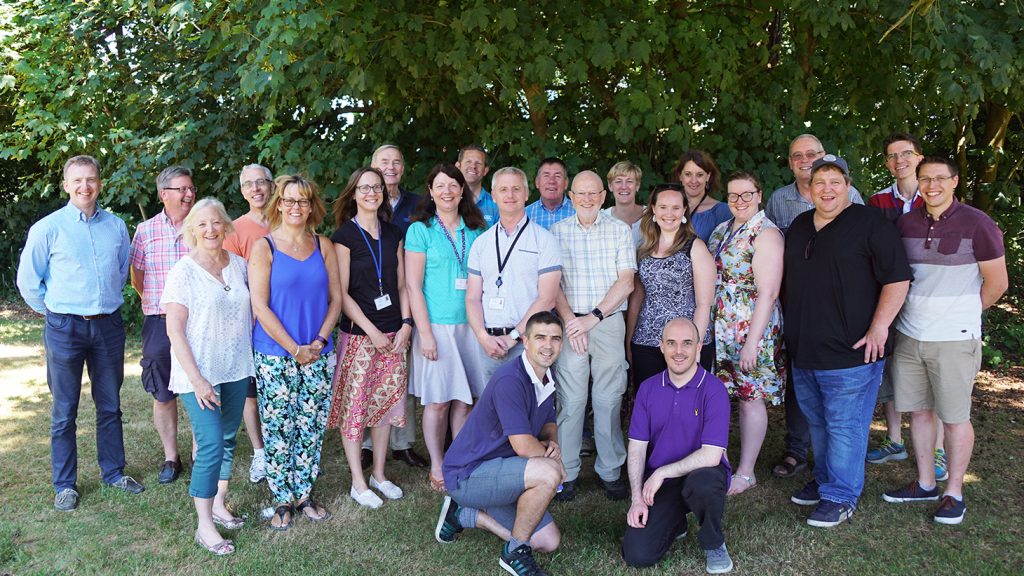 Above: All of our teaching staff, from all centres, at our Teaching Team Summit 2018.
---
Christchurch teaching team

Colin Bennett
Vice Principal (Development)
Colin is the Director of Training for the community and family studies modules. As well as being a placement- based tutor and lecturer, Colin has been instrumental in the development of our regional work.
@BarneyBenne101
Published books
Growing Upwards (Grove Books, 2016).
Free from Fear (self-published, 2016).
Reviews
International Association for the Study of Youth Ministry (IASYM) and Journal of Youth and Theology (December 2007).
Research papers / activity
Facilitator for Fuller University, USA Research Project 'Exemplars of Spiritual Thriving in Adolescence: An Exploratory Study',  2008.
---

Rev Ian Coffey
Vice Principal (Strategy)
Ian is the Director of Leadership Training and a campus-based tutor. He lectures on both the BA and MA courses, where he draws upon more than 40 years of leadership experience in both the local church and parachurch contexts.
@ICCoffey
Published books
Articles in magazines, books and journals
Ian was a columnist for the Western Morning News for ten years
Teaching material for Bible Sunday, 2010.
'Preaching Jesus from the Epistles',  Methodist Evangelicals Together (2010).
---

Ruth Coffey
Foundation Year Leader
Ruth leads the Foundation Year, teaches on pastoral care, and has an active role as a placement-based tutor. Ruth and Ian have a joint ministry and they regularly speak at conferences and church events in the UK and abroad.
---

Andy du Feu
Vice Principal (Academic)
Andy is the Director of Youth and Community Work and a tutor. He lectures on a breadth of subjects on the BA, and teaches a specialist MA module in digital communication. Andy has extensive experience as a youth worker and church pastor, and speaks regularly at youth events and churches.
Click here to find out more about Andy.
@andydufeu
---

Helen Hender
Placements Manager, lecturer
Helen oversees placements, and manages the practice modules at college. With over 30 years' experience working across the voluntary, community and statutory sectors, Helen is passionate about seeing students apply academic knowledge to their everyday life.
@HelenHender
---

Chris Jack
Director of Postgraduate Studies
Chris is the director of our MA course. He also tutors and lectures on the BA course: focusing on worship, Greek, and the New Testament. Chris has been teaching for over 25 years and has a ministry spanning over 40 years in both the UK and overseas.
---

Dr Ian Kirby
Vice Principal (Quality)
Ian is the Director of Cross-Cultural Training and lectures on the BA course in modules such as contexts of faith and working cross-culturally. Ian previously lived in Kyrgyzstan for ten years, where he was involved in church planting and teaching.
"We teach in a way that interests, and support in a way that encourages."
Click here to find out more about Ian.
---

Alistair McKitterick
Lecturer in Biblical and Theological Studies
Alistair is a lecturer on our BA and MA courses, teaching on subjects such as biblical theology and hermeneutics. He has a particular interest in the science and faith debate, and is currently pursuing his doctoral studies.
@ajmckitt
Articles in magazines, books and professional journals
'The Language of Genesis', in Norman Nevin (ed.), Must Christianity Embrace Evolution? (IVP, 2009).
Third Way
Journal of Youth and Theology
Journal of Adult Theological Education
Click here to find out more about Alistair.
---

Dr Helen Morris
BA Course Leader
Helen is our BA course leader and lectures on a variety of areas such as the Old and New Testament, Church and community, and exploring the mission of God. She is a personal tutor and has recently completed her PhD.
@HelenMorris17 
Published books
H. Morris, 'The City as Foil (not Friend nor Foe): Conformity and Subversion in 1 Corinthians 12:12-31,' in S. Walton, D.W.J. Gill and P. Trebilco (eds), Cities of God? Early Christian Engagement with Urban Environments, Grand Rapids: Eerdmans, 2017.
---

Dr Chris Sinkinson
Lecturer in Old Testament and Apologetics
Chris lectures on both the BA and MA and regularly leads student tours to Israel. He was previously the pastor of a New Forest church. Chris writes a monthly column for Evangelicals Now and has authored a number of books relevant to biblical archaeology.
@chris_sinkinson
Published books
Articles in magazines, books and journals
'The Lord of the Kings: 1 Kings 8:6–-21" inElizabeth McQuiod (ed.), Really? Searching for Reality in a Confusing World (IVP 2015).
'Are there many paths to God?', Christianity Magazine, July 2014.
'Growing a rural ministry', Evangelicals Now, February 2014.
'A Theologian explains why he is not an Atheist' in David J.Randall (ed.), Why I am Not an Atheist: Facing the Inadequacies of Unbelief (Christian Focus, 2013).
'One Light, Many Lamps: In Conversation with John Hick', Reform, February 2013.
'Youth and Old Age: Ecclesiastes 11:7–12:8' in Elizabeth McQuiod (ed.), Going the Distance (IVP, 2013).
'A Different Kind of Treasure: Matthew 6:19–24' in Creation, Chaos and Christ (Authentic Media, 2008).
'Exclusivism' in Campbell Campbell-Jack and Gavin McGrath (eds), New Dictionary of Apologetics (IVP, 2006).
'John Hick: Religion for the Modern World?' in Philip Duce and Daniel Strange (eds), Getting Your Bearings: Engaging with Contemporary Theologians (Apollos, 2003).
'Confessing Christ in a Pluralist Culture' in Timothy Bradshaw (ed.), Grace and Truth in the Secular Age (Eerdmanns, 1998).
---

Jonathan Woodhouse CB
MA lecturer, Chaplain
A Baptist minister and former Chaplain General of the British Army, Jonathan is the lead tutor of the MA Chaplaincy specialism and has 24 years' experience as an army chaplain. Jonathan and his wife, Jackie, also serve as college Chaplains, offering pastoral support to students and staff alike.
South West teaching team

Dr Andy Thomas
Senior tutor, lecturer
Andy leads the training team at SWYM. His passion for engaging with theory and practice has seen him church planting in Brazil; involved in HIV/AIDS-related ministry in South Africa; and church leadership in rural Devon.
Articles in magazines, books and journals
'Empowered individual or community ministries? A practical theological study of a South African Pentecostal situation regarding HIV/AIDS', Theologia Viatorum 34(1): 1–27 (2010).
Thomas, AJ. 2009. 'Oral history interviewing and its value in practical theological hermeneutics: an example from a study on a Pentecostal congregation', Studia Historiae Ecclesiasticae 35(2): 267–285 (2009).
'Empirical theology, African Pentecostals and an "Evangelical-Charismatic hermeneutic"', Practical Theology in South Africa 23(3): 46–66 (2008).
Click here to find out more about Andy.
---

Tim Cadoux
Centre Manager, lecturer
Tim helps to manage the running of the South West Regional Centre. He teaches on a number of modules, and manages the centre's library. Tim also works for SWYM's resources team.
@timcadoux
Click here to find out more about Tim.
---

Clair Wigg
Centre Manager
Clair works alongside Andy and Tim in running the centre. Her main focus is on planning and pastoral care, with some teaching. Clair is also the senior youth worker at her local church, and serves as part of the leadership team.
Midlands teaching team

Sharon Prior
Senior tutor, lecturer, Learning Support tutor
Sharon is an experienced lecturer, trainer, leadership coach and mentor. She is the senior tutor/lecturer at the Midlands Regional Centre, leading the team to deliver our BA course. Sharon also lectures on the MA Mentoring specialism, and is the leader of a church in Bournemouth.
---

Rachel Retallick-Cheel
Centre Manager, tutor, Learning Support tutor
Rachel's main role is to keep the Midlands Regional Centre running smoothly. In addition, Rachel is a tutor and handles the placement aspect of the course for Midlands students, as well as providing learning support to dyslexic students.
@RachelRCheel
Further Regional Centre staff
South West
Will Burditt, lecturer
John Mark Molyneux, lecturer
Helen Paynter, lecturer
Esther Stansfield, lecturer
Michael Tiffany, lecturer
Midlands
David Gidney, lecturer
Phil Grasham, lecturer
Mark Ord, lecturer
Tim Watson, tutor
South East
Colin Bennett, lecturer
Andy Whitman, lecturer
Support team

Julie Austin
Admissions Manager and Registry Manager
Julie is especially equipped to help prospective students decide which course, location and mode of study is right for them. Julie is Moorlands College graduate herself and has nine years' previous experience in pastoral care and overseas church planting. Julie is supported by the Admissions/Registry Assistant.
---

David Combes
Academic Manager
David manages the academic operations of the college, including our VLE platform, timetables and deadlines, and aspects of quality assurance. He is a graduate of Moorlands College and London School of Theology, and aims to make the learning experience the best it can be for every student.
---

David McLellan
Director of Operations
David manages the large team of people who keep the college running; covering finances, personnel, IT, marketing, health and safety, facilities and catering. David has extensive experience in the field of finance and is available to discuss fees, loans and other money matters with prospective students.
---
Wider Moorlands College support staff
Lynn Coombs, Jo Dowds, Derek Dayman & Ali Watson, Learning Support team
Debby Bodman, HR and Administration Manager
Helen Cole, Colin Mitchell and Jo Dowds, Tutors
Sue Brown and Diana Conway-French, Domestic Team
Helen Giblett, PA to the Principal
Joanne Hazlett, Placements Administrator, Admissions Assistant & Fundraising Coordinator
Helen Cole and Emma Coffey, Reception and Administration team
Matt Mellor and Mark Slight, Technical Services
Andy Newton, David Rainey, Hannah Mathers, Jacob Waters, and Selena Craddock, Kitchen Team
Tammy Fraser, Midlands Learning Support tutor
Linda Sambell and Becky Thomas, South West Learning Support Team
Grant Slade and Andy Cutler, Facilities and Maintenance
Sarah Rushby, Marketing
Jonathan Woodhouse CB and Jackie Woodhouse, Chaplains
Rachel Combes, Librarian
Sandy Cottingham, Data Assistant and Technical Services Assistant