The reality of 2020
Who of us had a true vision of the reality that 2020 would bring? Perhaps Covid-19 might be more aptly termed Covid-20.
Did anyone accurately predict the scale of the global crisis that has so often been referred to as 'unprecedented' that the word is in danger of becoming one of the most over-used words in the English language? Who foresaw a global crisis on such a scale? A crisis that has ushered in new norms, and new vocabulary to go with it.
Who of us was accustomed to regularly, if ever, using phrases such as 'social distancing', or 'lockdown' which now trip so readily off the tongue? Or how many of us would have known what the abbreviation PPE stands for?
Whatever visions of the year 2020 people may have had, the reality is almost certainly very different.
'It is not for nothing that today everyone feels uncertain and insecure. The word 'crisis' is on every lip . . . Instability, both inward and outward, is growing. Our political, economic, ethical and religious systems are more vulnerable than many people thought. Consequently the longing for security in all spheres of life is growing as well.'
Changing world, changing church
What an apt commentary, it might seem, on the global crisis ushered in by the Covid-19 pandemic. Yet these words were not penned as a reflection on this present predicament. They were written almost fifty years ago, in 1975, by the German theologian Jürgen Moltmann, in the preface to his book The Church in the Power of the Spirit. Of course, Moltmann was not setting out his 2020 vision, but was commenting more broadly on what he perceived to be the spirit of the age at the time he was writing. How poignant his words are for this time, nonetheless.
Let me turn to another book, Changing World, Changing Church, written around the turn of the millennium in which the author, Michael Moynagh, does set out his vision for the church in 2020. It is an adventurous piece of writing that wrestles with what it means to be church in the twenty-first century. It deliberates on what forms and expressions of church might be desired, or even required, in the fresh cultural setting that Christians find themselves in, at least in the western world. Although the book contains proposals that are both innovative and controversial, the 2020 vision set out is almost tame by comparison with the radical nature of what, here in 2020, we are currently witnessing by way of increasingly widespread expressions of church.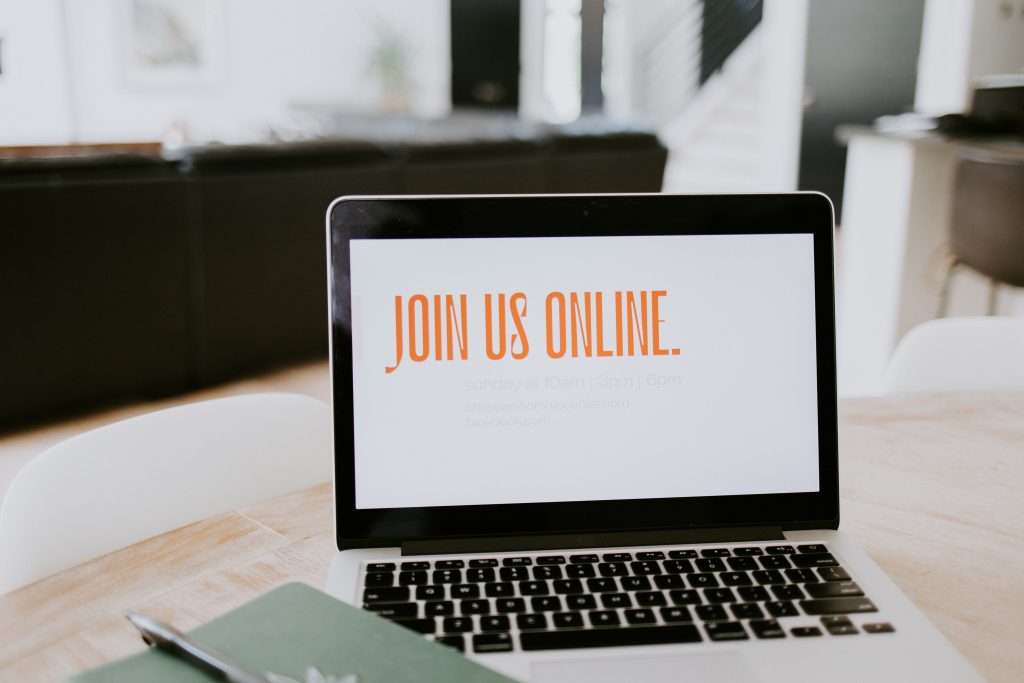 Online worship
In the world of Covid-19, my church, like many others that have the means to do so, has gone virtual. We now have a range of virtual activities, including virtual services on a Sunday morning, where we can log in to a live stream to share in a service that has been planned and put together without contravening any of the social distancing rules. So, as a fellowship of Christian believers we can gather—in some sense at least—and worship God sharing at the same time a common experience. On Good Friday, we even celebrated the Lord's supper together, virtually, each of us partaking of the bread and the cup in our own homes. It would appear that virtual church is for many, at least on a temporary basis, a new norm.
'Virtual church' is a concept that some (I readily confess to being one such) would have eschewed, or at least had major reservations about as recently as two months ago. Yet we now warmly embrace this phenomenon as a welcome means of achieving, or facilitating, things that otherwise could not be. We have adapted to our circumstances.
Crisis brings opportunity
What does all this mean for the longer term? It forces upon us, does it not, fundamental questions as to the nature of church. What is ultimately important? What is essential? What are the biblical givens as opposed to the cultural flexibilities in our structures and practices?
Moltmann observes, in The Church in the Power of the Spirit, that crisis brings opportunity. Specifically, he maintains, an opportunity—and also a necessity—to re-examine the fundamentals. Though we may, or may not, agree with Moltmann in the outworking of some of the details, the three-fold challenge that he proceeds to lay out for the Church is surely sound in its core thrust: to be faithful to its calling and commission; to remain true to its foundation in Jesus Christ; and to hold onto and also hold out (to others) the hope which is grounded in God's kingdom, both present and future.
There are inevitably many questions as to what this looks like in practice, not least in, and beyond, the current context we find ourselves in. Nevertheless, it is a crucial reminder that cultural accommodation and pragmatic concerns must not be the master. Practice must never trump theology. If you will, applied theology must genuinely be theology applied.
Living hope
I wonder what the world will look like as we emerge from this crisis. One thing is surely true: the world will not be the same again for a very long, time, if ever.
What, I wonder, about the Church?
Moltmann, using a phrase that is lent a prophetic force by current events, speaks of churches that 'do not stray into social isolation but become a living hope in the midst of the people.'
Might that not be God's 2020 vision for his Church?

________________________