Moorlands College is validated by the University of Gloucestershire. We participate in the Government's Teaching Excellence Framework, and are reviewed by the Quality Assurance Agency to ensure we fully meet national expectations as a provider of higher education.
Degree validation
All Moorlands degree programmes currently on offer are validated by the University of Gloucestershire. This means that the University oversees the standards and quality of what we do, and awards the degrees at the end of a student's studies.

Quality assurance
The Quality Assurance Agency for Higher Education (known as QAA) is the body that is responsible for safeguarding standards and improving the quality of UK higher education. The College's was recently reviewed by QAA and was found to meet national expectations in all areas.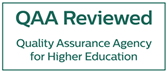 The full report of this review is available here.
The College's action plan of responses is available here: HER Action Plan 2018 11 28
National Student Survey
Moorlands students are extremely positive about the quality of the College's provision. We participate in the National Student Survey and our results for 2021-22 are excellent, with 87% positive responses for the most widely quoted category of "overall satisfaction", and an average of 92% positive responses for the four categories relating to teaching.
BA in Applied Theology with Youth and Community results
BA in Applied Theology results