Access and Participation Plans
Access and participation plans set out how higher education providers will improve equality of opportunity at undergraduate level for underrepresented groups to access, succeed in and progress from higher education.
For the College, they include:
our ambition for change
what we plan to do to achieve that change
the targets we have set
the investment we will make to deliver the plan.
Students are covered by the most recent access and participation plan in place at the time they start their studies even if the provider introduces new access and participation plans in subsequent years. Further general information about plans can be found at Office for Students.
Please find below our active plans:
Access and Participation Plan 2019-2020
Access and Participation Plan 2020-2025
The College published access and participation statements that covered students who started their studies in September 2018 or earlier. Please find below our Access and Participation Statement published in January 2018:
Access and Participation Statement Jan 2018
Fees and Finances
Here is our Fee Summary. 
More information can be found on our Fees and Finance web page
Transparency information
The information published on these pages shows:
The number of applications for admission on to recognised, undergraduate higher education courses that we have received from UK domiciled applicants.
The number of offers we have made in relation to those applications.
The number of those offers accepted and the number of those who have registered with us.
The number of students who attained a particular degree or other academic award, or a particular level of such an award, on completion of their course with us.
It also shows these numbers by reference to:
The gender of the individuals to which they relate.
Their ethnicity.
Their socio-economic background.
It is important to note that the data presented has not been contextualised. This means, for example, that you will not be able to see from this data how many of those applying to courses met the entry criteria. It is also the case that universities and colleges will often receive many more applications than they have spaces on courses and so offer rates will necessarily be lower than application rates in those circumstances.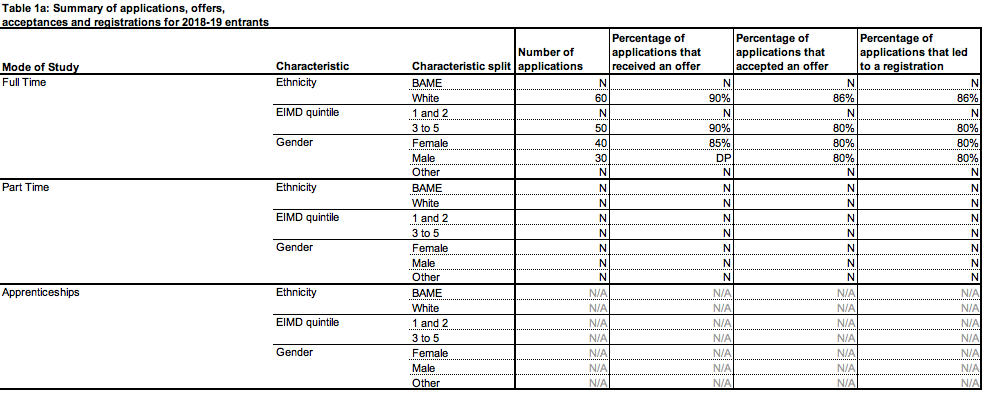 Click below for the full data set:
TransparencyTables19_v2_1_10023454