Our library offers a comprehensive academic resource to support those studying applied theology.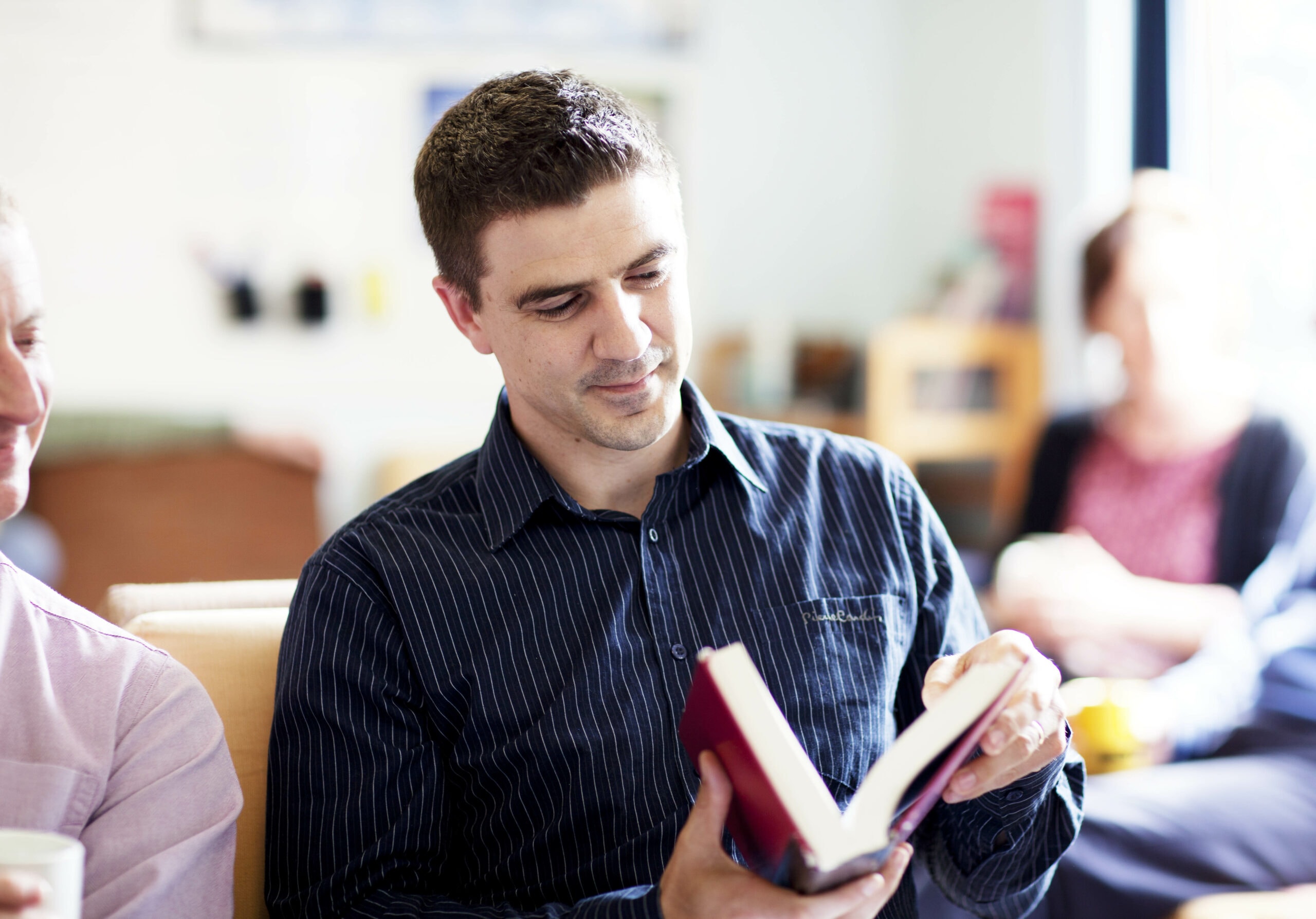 At Moorlands College, we prize our learning resources, holding over 50,000 physical titles across our locations of delivery, and over 10,000 e-books and 4,000 e-journals accessible online.
Discover more about our Christchurch Campus library and the resources available at our various locations below.
Christchurch Campus Library
The library is situated in a bright and spacious building across three floors, overlooking the beautiful campus grounds. It is a peaceful place to study and undertake research. The library is open 24/7 for all students who are welcome to use the facilities at any time.
Our Christchurch Campus library is used by both undergraduate and postgraduate students and houses over 44,000 books. 
As well as a full range of biblical and theological texts, our stock covers a wide range of themes including ethics, youth work, philosophy, sociology, other religions and much more. We also house a collection of texts on languages, linguistics and communication in partnership with Wycliffe Bible Translators, including a unique and impressive array of Bibles in world languages.
We subscribe to an extensive selection of journals which are available on the ground floor for use within the library.  Older runs of many titles are available upstairs and include specialist linguistic publications.  Newspapers and other current affairs publications may also be found on the ground floor.
There are 33 study spaces available, including an adjoining ground floor air-conditioned space with iMacs and a photocopier. Guest Wi-Fi is available on arrival for graduates and those on our external user membership scheme.
Opening hours
24/7 access for all students during teaching periods.
8.30am – 5pm access with reading rights for graduates and external users.
Outside of term-time, the library is open 8.30am – 5pm, Monday to Friday and students, graduates and library membership users must sign in at Reception on arrival. 
The Christchurch Campus and the library are closed on Bank Holidays and over the Christmas/New Year period.

Contact
A member of staff is available in the library office weekdays. For more information about opening hours, services or the library membership scheme, please email: library@moorlands.ac.uk
Library Catalogue
All the resources available across our locations are catalogued in Heritage, our online library management system.
E-Books available on ProQuest, Browns and through our EBSCO subscriptions are also catalogued in Heritage.
Students and staff may use this facility to search for resources and to reserve and renew their library books by logging into their individual library accounts.
Loans
Students can borrow, renew, reserve and return items by logging into their library account via Heritage Online on the VLE or by using the Heritage self-issue desk (Christchurch only). Library staff at any of our locations of delivery will be happy to help.
We operate a trust-based, self-service system, according to the Christian ethos of good stewardship and respect for others.  Books must be logged out on Heritage before being removed from the library.
Allocations
The number of items that may be borrowed depends on the course, mode of delivery and loan type.
More details are available to our students on the library page on the VLE.
Regional Centre Libraries
Students studying at a Regional Centre have the opportunity to take out books from the Christchurch Campus library during block weeks or at other times as noted in the opening hours above. These may usually be kept until the next block week. There are also physical collections available at the relevant location of study. See below for more.
Moorlands NI @ Youth Link
The branch of the library at Youth Link: NI (Belfast) is located on the top floor of the building and contains almost 3,500 books. Resources have a focus on youth and community work and theology.
Reception staff at Youth Link are on-hand should students have any queries. 
The library is typically open Monday to Thursday from 8.30am to 5pm. On Friday, the building usually closes early around 2pm. Students need to ask for a security pass from reception.
South West Regional Centre
Our South West branch of the library is in situ at Lee Abbey and houses over 2,200 titles. With beautiful views to the sea, the library is the perfect space to search for books, study, or take some time out.
The library is open during block weeks for all South West students, and access may be negotiated directly with Lee Abbey at other times.
A member of staff is usually on hand to help with enquires or difficulties during block weeks.