We have a variety of events held here at Moorlands College. Have a look to see what's on and we hope to see you at one soon.
Renewed in Hope 2022
Are you a church leaders or part of a leadership team? Would you benefit from some encouragement in a safe environment? 
Come and be spiritually refreshed. Feel off-duty, unwind, reflect in our grounds, and connect with other leaders in a shielded space. The day will include sung worship, Bible teaching, reflection and a meal. Representatives from Moorlands College, Bible Society and Living Leadership with be on-hand throughout the sessions to chat, reflect and pray with you.
Wednesday 23rd November
10:00am – 4:00pm
Venue: Moorlands College
Tickets: Free of charge
(booking essential)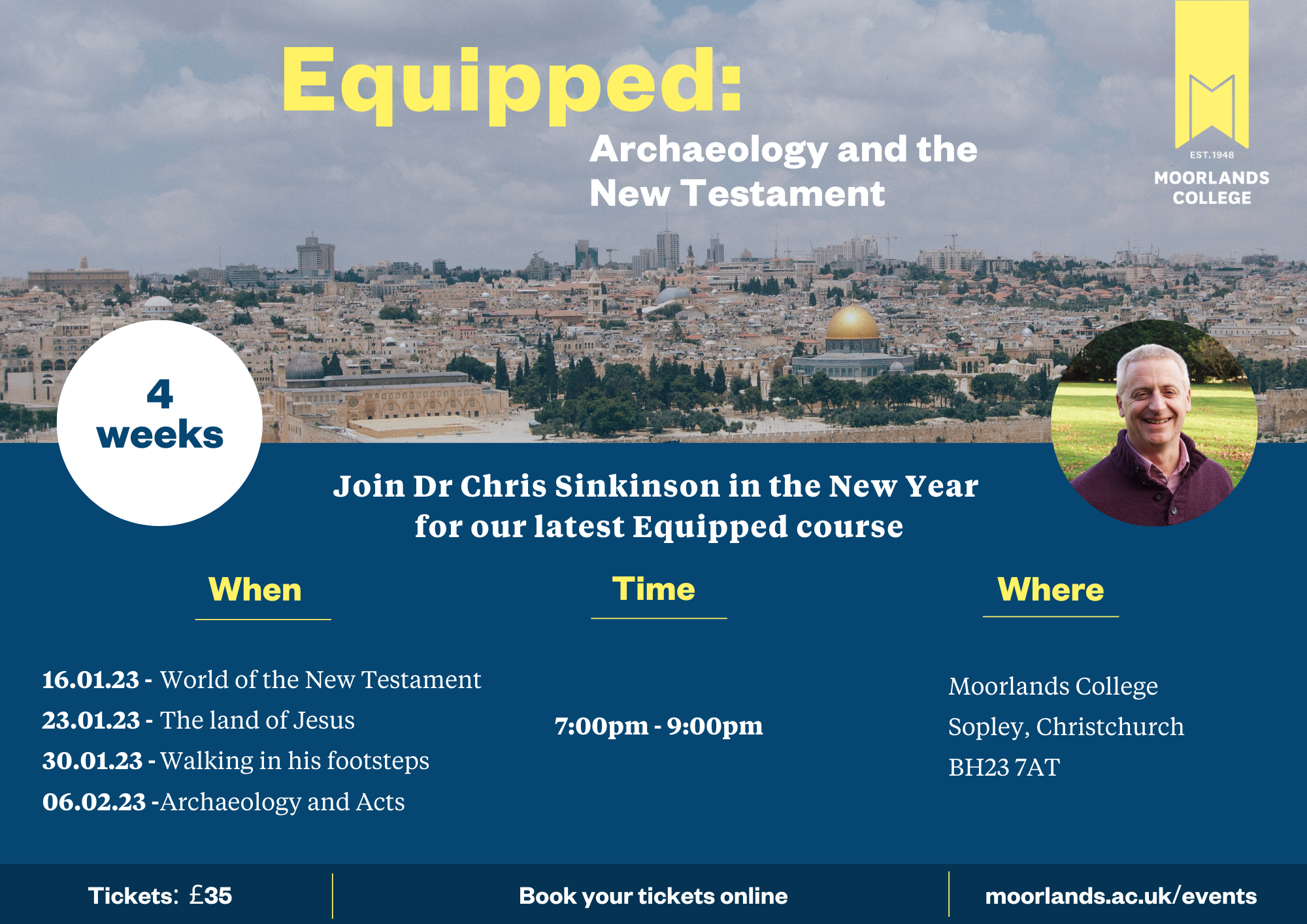 When you book onto Equipped: Archaeology and the New Testament, you will receive a discount code for £10 off Equipped: For the workplace.
Equipped: Archaeology and the New Testament
Who was Jesus and what do we know of the times in which he lived? Join Dr Chris Sinkinson for our latest 4 week Equipped course.
With every year, new archaeological discoveries cast light on the first century world of the New Testament. In this Monday evening Equipped course series you will be able to see the Gospels in the light of these exciting finds. The personalities and places that we read about in the Bible are all brought to life with artefacts and excavations. This content will help you in Bible study, sermon preparation and apologetics but it will also be an entertaining and instructive course.
Starting 16th January 2023
7:00pm – 9:00pm
Venue: Moorlands College
Tickets: £35
Equipped: For the workplace
Do you want to gain confidence sharing your faith and transforming the workplace? Join us for our 6 week course Equipped: For the workplace.
This will be run in partnership with Solas, LICC (The London Institute for Contemporary Christianity), and Transform Work UK.
Starting 20th February 2023
7:00pm – 9:00pm
Venue: Moorlands College
Tickets: £65