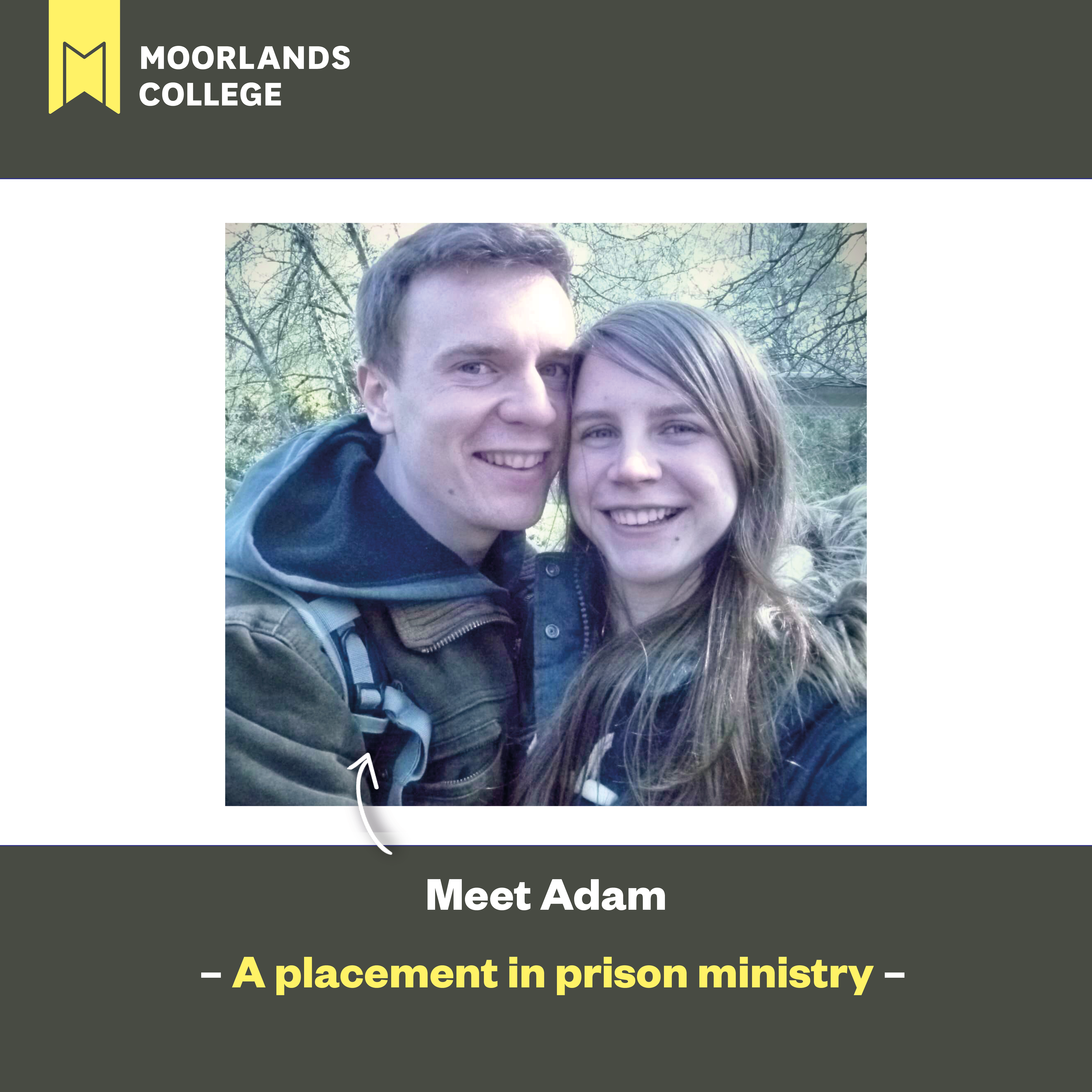 Meet Adam, one of our BA Applied Theology Christchurch placement-based students. In our latest blog post, Adam shares how his prison ministry placement alongside his studies has truly impacted his journey with Christ.
God had other plans
When God challenged me in 2019 to pack in my dream of becoming a physiotherapist and study theology instead, I really had no plan in which direction this would take me. To the world, it seemed a preposterous move; I was just about to finish biology night school and had received offers from a few universities to begin the path of physiotherapy. But as we all know and learn again and again, God has other plans contrary to ours.
He has set me free through His son 
During my first year at Moorlands College, being a campus-based student at the time, I lapped up any opportunities my placement church gave me, such as preaching, kids groups, leading services, Alpha groups etc. The question was still in my mind: which direction was God taking me in?
For those who know me, before coming to Christ, I was helplessly addicted to drugs and I was stuck in a perpetual cycle. I don't have time to go into my testimony here but all I can say is thanks be to God that though I used to be a slave to sin, he has now set me free through His son.
God's words on my heart 
After this turning point, God kept telling me to bless others through my past. Then, one day, God put these words on my heart: "prison ministry."
Soon after this, I was able to visit HMP Winchester and shadow the chaplaincy team there. Over lunch, I asked them if I could do a placement in Winchester and to my delight it was a yes. I then switched my mode of learning to placement-based at Moorlands College and was all geared up to enter at the start of year 2 of my degree programme.
But then, to my horror, the pandemic hit. I was of course worried that the pandemic would take away my chances since volunteers were not allowed into the prison. But God is good. Every single prisoner has the legal right to access faith specific support from their particular faith. With Christianity, this specifically extends to particular denominations. I come from the Baptist tradition and 'luckily' for me, there was one Baptist prisoner, so I was able to enter and start my placement.
Freed in Christ
I have been serving in HMP Winchester for 8 months now with the chaplaincy team. I have seen people come from the grips of the sin to being freed in Christ. I have seen those struggling with addiction be set free. I have seen others becoming obsessed with the word of God pouring their heart and time into Scripture and prayer. It has not all been positives though – there is still a great struggle within the prison for the enemy is rife. I have come to see now how God is using my past to bless others. Speaking about my past opens up conversations even more deeply than I could possibly imagine. And having tattoos also helps!
I could not have reached where I am today, firstly without God, but also not without the time and wisdom of the lecturers at Moorlands. They have challenged me to rewire and rethink so many thought patterns and all of this has impacted the way in which I speak and engage with others in the prison.
God-breathed lectures
The Christian Doctrine lectures inspired me to put together a doctrine basics course for the guys which I'm excited to launch once lockdown within the prison comes to an end. The Worship lectures have challenged me to prepare and deliver services in different ways. The essay on preaching the gospel in 5 minutes has come in very handy when the prisoners are wanting to turn their lives over to Jesus. I could go on more and more, but I will leave it there.
To all those considering the course, or already studying, work hard put the effort in and God will give back massively. I'm sad to think that in a years-time my studying will be coming to an end but I'm so thankful to have been taught the skills I need to keep on digging deep and study all the more. Coming to Moorlands College has changed my life for the better.
If anyone wants to know more about prison ministry, you're welcome to contact Adam. Drop an email to communications@moorlands.ac.uk and we'll pass on your email to him.