This three-day course is for those wishing to build a foundational proficiency in the Bible translation software program Paratext.
Date(s)
19th – 21st June 2024
Application deadline
May 2024
Location
Moorlands College, Christchurch, Dorset, BH23 7AT
Price: £165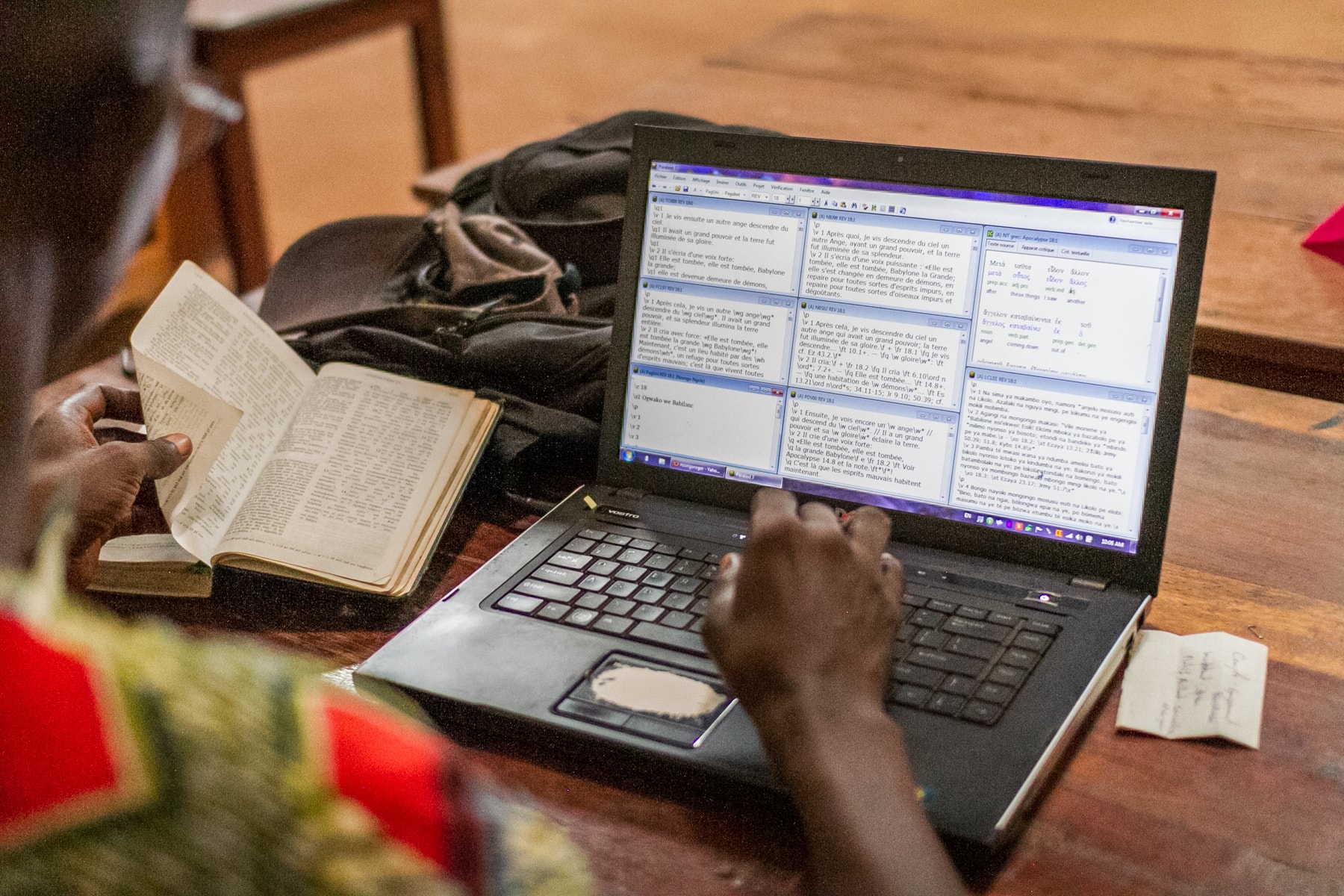 This photo is attributed to Heather Pubols.
Paratext is the world's leading Bible translation software. It has many powerful features to assist Bible translation and is used by more than 10,000 people in over 3,000 different language groups.
Course Content
The Paratext course gives an introduction to a wide range of the features and functionality of Paratext. Participants are also given resources to continue building on this foundation in the future. The course is aimed at complete beginners in Paratext but would also benefit those unfamiliar with the latest version of Paratext. Knowledge of Paratext is a prerequisite for the Translation course and the program requires a laptop that will run Windows or Linux. Features covered in the intensive three-day course include:
Creating projects and registration including language and other settings.
Send/Receive.
Autocorrect, checking inventories, wordlist and spellchecking.
Back translation and the interlinearizer.
Using notes, source language tools, the Biblical terms tool, parallel passages and enhanced resources.
Using project plans and progress tracking.
Entry requirements
To be accepted onto this programme you need to have the potential to succeed in it and to benefit from it. This is normally demonstrated by:
Two A-levels

 

or other equivalent level 3 qualifications.
GCSE in English

 

(Language or Literature) at grade C or above, or equivalent qualifications at level 2, or an IELTS Academic Certificate with an overall score of 5.5 or nationally-recognised English language-based level 3 award, equivalent to these IELTS scores, from a different testing system.
An appropriate understanding of, commitment to and suitability for the range of vocations for which these studies prepare you.
If your formal education does not meet these requirements, but you have experience and non-certificated learning to the appropriate level, please get in touch with us to discuss your options.
You will need to show evidence of:
Prior learning, including the learning outcomes of the programme that you have achieved, and other relevant qualifications and experience, including evidence of how your studies have remained current.
A capacity to benefit from the study of practice, as part of your continuing professional or vocational development.
Sufficient academic ability.
Please contact admissions@moorlands.ac.uk for further guidance.
Apply now
Please apply using the form below.  We'll let you know in due course if your application has been accepted.  If your application is successful, we'll ask you for a £50 non-refundable deposit. Full payment will be requested one month before the start of the course if you're accepted.
Please note: In order for applications from non-UK/EEA to be processed in time, we request that applications made from countries outside the UK/EEA should be submitted at least 6 weeks before the start of the course (including references sent to the college). This is in order to give sufficient time for a visitor visa application to be processed, and required funds to be released for the commencement of the course.  Assistance with visa application will not be given.